Oleg

Site Admin

Joined: 26 Sep 2004

Posts: 5705

Location: The Hundredth Town, USA




Biblical times and state-of-the-art particle systems – what can link them together? Laszlo Sebo explains:

"The Hallmark miniseries

The Ten Commandments

followed the story of Moses from his childhood all the way to finding the Promised Land. Over the course of approximately 4 hours, the episodes had about 230 CG effects shots, of which the biggest challenge for our little team of CG FX artists was recreating the Red Sea opening up. The sequence consisted of over 30 shots of ocean surfaces, both close-ups and distant background shots.

Animation Video #1 (1.26 MB)

We only had a limited time to develop a look that matched the artistic vision of the production and create a pipeline with which we could make all the shots with a team of only 4-5 people. We tried to use the best of everything, so our Maya team created the animated ocean surfaces with different cloth simulation tools, and parallel, we used Particle Flow and PFTools:Box#3 for all the particle effects on and around the water, like foam, water spraying off the ocean, dust being kicked up, the general atmosphere etc. On average, each shot had about 12 ocean passes and 16 particle passes rendered. Some shots more, some less.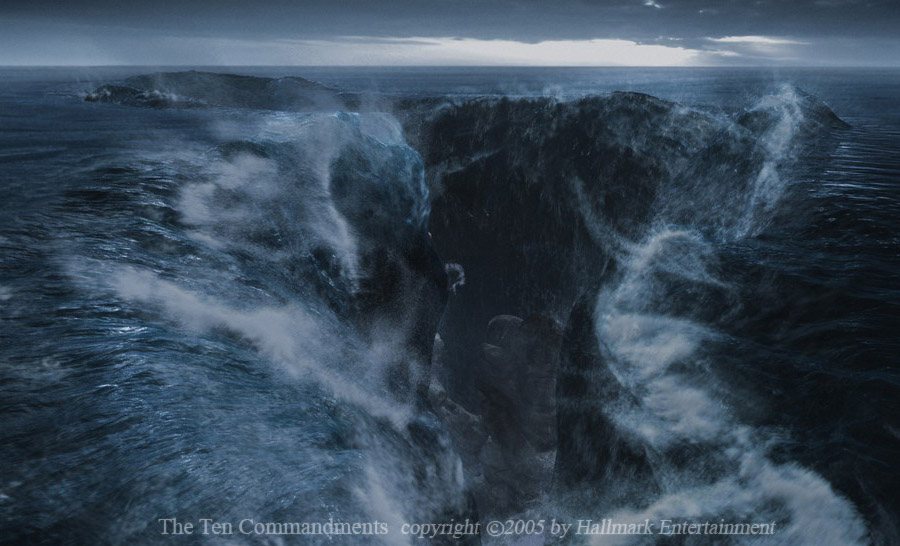 Without the huge control that Box#3 gave us over particle behavior and the speed optimizations that it has when working with lots of particles and reacting to animated regular objects, we could have never finished the project. I, as a CG FX Supervisor, pre-created a Particle Flow network for each of the main passes, which were then hand fitted to the particular shot that we had to work on, creating a rough overall particular motion, which we could then extend with additional more detailed particle passes later on if needed.

Most particle passes were highly dependent on the motion of the ocean surface, so I created flows where particle generation and the forces applied to the particles were based on different surface characteristics, like local acceleration or tension. Acceleration was easily sampled, but for tension sampling we had to create a shader that rendered a tension-like gradient to any surface it was applied to. We then baked this shader into the sea surface as bitmap textures, which were then sampled by PFlow. This method worked for some of the shots, but some shots had way too big sea surfaces to allow interactive particle creation. For those bigger shots, we hand animated low-poly "emitter" cage surfaces around the wavefronts moving upwards as the godly force was pushing.

Animation Video #2 (2.11 MB)

Some of the "hero" shots needed fine tuned atmospheric like, yet particular spray passes. For that, I created a PFlow Data Operator that sampled the particle density around each particle in the direction of the light source. Based on the density and user-set parameters, the operator would assign a UVW value to the particle, which was then used to sample a regular gradient ramp map. So simply put, particles that were surrounded by lots of other particles became darker, while particles separated from the main chunks were lighter. This gave a very dense, cloudy look to the particle mass that had sprays breaking off it.

Working with Box#3 was like having total control. With the Disk Cache operators we could also go crazy with particle counts, and still get nicely multi-pass motion-blurred renders. We just pre-cached everything, and then sent the system to render on the farm, no extra calculation was needed."

Animation Video #3 (7.47 MB)